The AMCP Managed Care Pharmacy Residency and Fellowship Showcase assists residency and fellowship preceptors, directors, residents and fellows in fostering relationships with prospective candidates and exchanging valuable information about their managed care programs.
Wednesday, October 24, 2018, 5:00pm - 8:00pm
5:00- 6:00pm -open only to P4s, 6:00 - 8:00pm - open to all
AMCP welcomes all managed care post-graduate residency or fellowship programs' participation in the Showcase. Contract deadline for space reservations is September 7, 2018.
Participating Programs: (current list as of 9.24.18)
AMCP Foundation Internships
Aetna Medicaid
Anthem PGY1 Managed Care Residency
Blue Cross Blue Shield of Michigan PGY-1 Managed Care Residency Program
CareAllies, a Cigna Company, PGY1 Pharmacy Residency Program
Celgene/Thomas Jefferson University HEOR Fellowship
Central Texas Veterans Healthcare System (IVSN 17) PGY2 Pharmacy Outcomes and Healthcare Analytics
Cigna - HealthSpring PGY1 Residency
Clinical Support Services PGY-1 Managed Care Residency
CVS Health Managed Care Residencies
Eli Lilly and Company (Lilly) Visiting Scientist Fellowship
Employers Health Coalition - Clinical Advisor Residency
Envolve Pharmacy Solutions
Evolent Health
Gateway Health PGY-1 Managed Care Residency Program
Genentech Managed Care Medical Affairs Fellowship
HCA Healthcare/University of Tennessee College of Pharmacy
HCSC Enterprise Pharmacy Residency Program
Health Plan of San Joaquin PGY1 Managed Care Residency Program
HealthFirst Managed Care Pharmacy Residency
Highmark PGY1 Managed Care Pharmacy Residency Program
Humana Managed Care Pharmacy Residency
Kaiser Permanente Georgia
Kaiser Permanente Mid- Atlantic States PGY1 Managed Care Residency Program
Kaiser Permanente Washington PGY1 Managed Care Residency
Magellan Rx Management Residency
MCPHS University Biopharmaceutical Industry Fellowship Program
MedImpact Healthcare Systems PGY1 Managed Care Residency
Moda Health PGY1 Managed Care Pharmacy Residency
Navitus Health Solutions
Northeastern Fellowship Program
Novartis Health Economics & Outcomes Research Fellowships
OutcomesMTM Clinical Services Residency Program
PerformRx PGY1 Managed Care Residency Program
PGY-1 Managed Care Residency Program at Kelsey-Seybold Clinic
Pharmacy Quality Alliance (PQA) Fellowship Program
Post-Doctoral Fellowship Programs: Allergan, Bayer, Genentech The CHOICE Institute, UW SOP
Premera Blue Cross PGY1 Managed Care Pharmacy Residency
Prime Therapeutics Managed Care Residency
Regence BlueCross BlueShield
SelectHealth
Senior Health Services Medicare Part D PGY1 Residency Supporting Blue Cross Blue Shield of Michigan
Sullivan University / Medicaid Center of Excellence PGY1 Managed Care
The Ohio State University Health Plan, Inc
TN Dept of Mental Health and Substance Abuse Services
Univ of Oklahoma Managed Care Pharmacy Residency - Medicaid Focus
University at Buffalo SPPS/BlueCross BlueShield of WNY- PGY1-Managed Care Residency Program
University of Kentucky College of Pharmacy Fellowship in Pharmaceutical Outcomes & Policy
University of Michigan Prescription Drug Plan PGY1 Managed Care Residency
UPMC Health Plan Managed Care Residency
USciences Janssen Payer/Health-System Medical Information Fellowship
WellCare Health Plans PGY-1 Managed Care Pharmacy Residency Program
WellDyneRx Managed Care/Specialty Residency
Xcenda Health Outcomes and Market Access / Medical Communications Fellowships
Questions?  Contact StudentDevelopment@amcp.org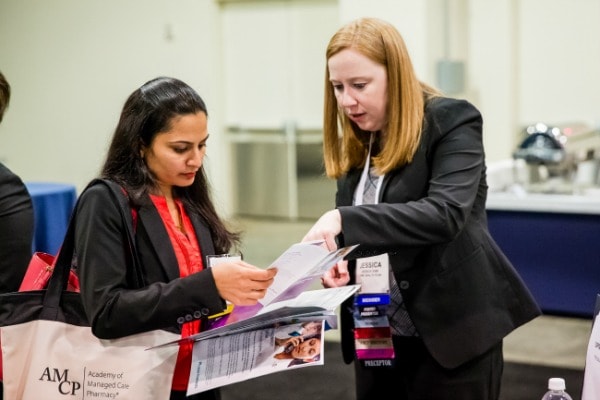 Costs to Participate:  The table top fee is $125 and includes a 6 foot draped table.   Additional tables are available for $75.  Space will be assigned in the order of contracts received, after the deadline date.
The program is also responsible for any costs incurred for transporting showcase displays and materials and any electric needs. Information on shipping, handling and table specifics will be sent with table assignment confirmation.
Staffing:  All exhibits must be staffed during Showcase hours by no more than three (3) people. It is strongly recommended that the following representatives participate: 1) a current or former resident/fellow, 2) a residency/fellowship director, and/or 3) a preceptor or instructor. All exhibit personnel MUST be registered for AMCP Nexus 2018 and at least one representative must be pre-registered.  Registration and housing information can be found here.
Display and Material Distribution:  Only table top exhibits will be allowed. Display materials are not allowed on the floor. The exhibit may not be a floor exhibit that is placed on top of the table. If your exhibit does not fit on a table top, it will be removed.
Programs will be allowed to distribute educational,novelty, or commercial giveaway items of nominal value to attendees. Computer demonstrations — limited to table top space — are permissible.
Required Materials:  Due to the educational purpose of the 2018 AMCP Managed Care Pharmacy Residency and Fellowship Showcase, the following information must be available at your table:
Clearly stated residency goals and objectives
Description of academic and professional affiliations
Residency/fellowship site(s)
List of faculty and/or instructors with contact information
Key dates for residency program (application dates, beginning and ending dates, etc.)
General information about stipends, benefits, etc.